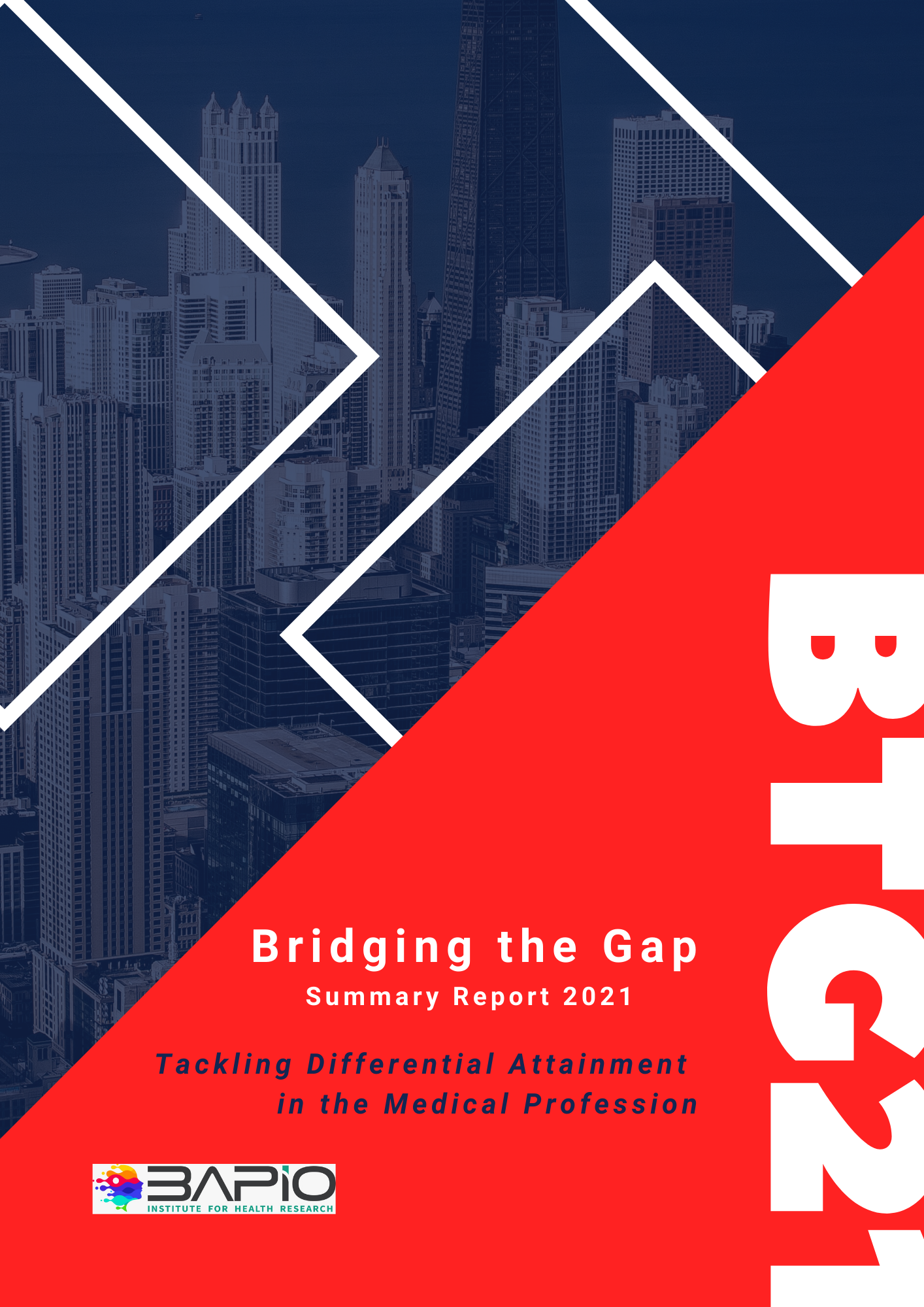 Published 2021-09-14
Keywords
Differential Attainment

,

International Medical Graduates

,

MedicalProfessionals

,

Bridging the Gap
How to Cite
Chakravorty, I., Daga, S., Sharma, S., Fischer, M. ., Chakravorty, S., & Mehta, R. (2021). Bridging the Gap 2021- Summary Report: Tackling Differential Attainment in the Medical Profession. Sushruta Journal of Health Policy & Opinion, 14, 1–52. https://doi.org/10.38192/btg21.1
Abstract
Differential Attainment
Healthcare professionals are among the most respected, valued members in any society- and also the most regulated. It attracts some of the most talented, innovative and resilient individuals who are keen to do good. Respect, job satisfaction and autonomy are fundamental to the experience of any professional, and often valued above financial or material reward. Doctors are no different.
Education and training of the healthcare workforce is a lengthy and resource intense process. No nation-state can be truly self-sufficient. Hence workforce migration is a reality where various pull and push factors lead to professionals moving across countries and continents, in the service of populations.
Society is divided along many lines and steeped with structural inequalities. Many of these are the result of thousands of years of history, legacy and societal wrongs. Healthcare services and professionals reflect similar patterns of the 'big society'.
The phenomenon of differential attainment (DA), which is the subject of this report is simply a manifestation of such structural inequalities. DA or differential outcomes for doctors due to their age, race, gender, sexual orientation, ethnicity, disability, socio-economic deprivation or influenced by migrant status - rather than motivation, ability, effort or enterprise.
DA is fundamentally unfair. Those affected by DA are either unaware or unable to counteract the influence on their careers. DA leads to demoralisation, disengagement and poor outcomes for professionals and their patients. It takes its toll not only on careers but on lives and livelihoods. DA leads to a huge under-utlisation of human resources- a true waste of talent and enterprise.
This report- BTG21 focuses on DA in the medical profession exploring the career cycle through the themes of recruitment, assessments, career progression, research & academia, leadership roles, awards and professionalism.
BTG21 is people-centred and in tackling inequalities offers solutions on career fulfillment and wellbeing- by an ideological shift of hearts and minds.
Thematic Synthesis
BTG21 summary report is the culmination of a thematic synthesis of evidence covering the full spectrum of medical careers. It presents lived experiences (collected through mixed method approaches) capturing patterns in peoples experiences through an online survey, and in-depth qualitative interviews with a purposive sample of professionals from across the career cycle, range of ethnic heritage, medical specialism and country of origin.
Followed by consensus developed through workshops by a triumvirate of experts, stakeholders and grassroots professionals.
There are 5 primary causes of DA- bias, social class & deprivation, immigration status, geographical and individual factors and impacts every stage of medical professional careers.
The thematic synthesis reviews are published in the Sushruta Journal of Health Policy.
Recommendations
The Workshop discussions, recommendations (the 10-point plan) include policy enablers, immediate actions and research questions in the following areas;

Tackling bias
Embracing diversity & inclusion
Celebrating the contribution of migrants
Leveling the playing field
Inclusive leadership & accountability
Removing structural barriers
Review-Reform-Rethink assessments
Redefining professionalism
Disaggregation-intersectionality-benchmarking of data
Support-flexibility & Wellbeing