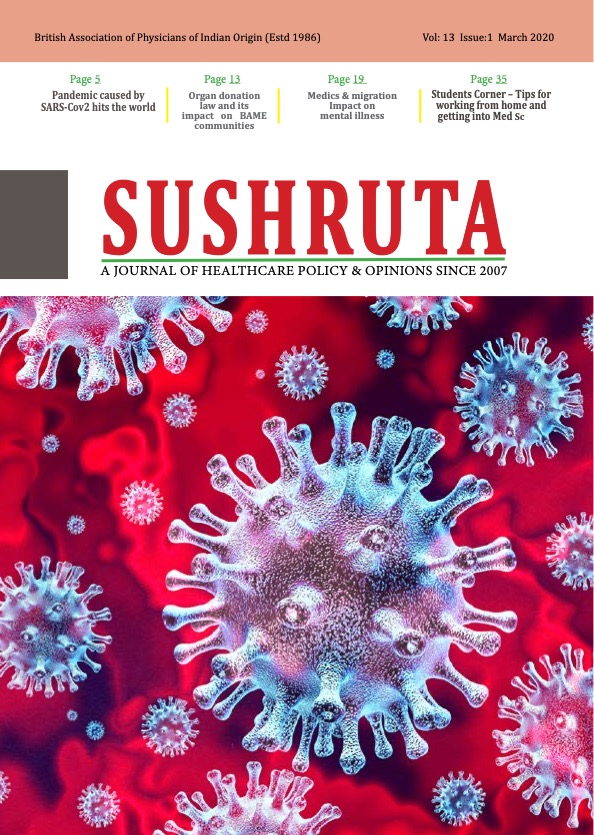 Published 2020-04-18
Keywords
organ donation

,

Social perspectives

,

BAME
How to Cite
Chakravorty, I. (2020). The Gift of Life: Social & Cultural Perspectives on Organ Donation. Sushruta Journal of Health Policy & Opinion, 13(1), 10–12. https://doi.org/10.38192/13.1.2
Abstract
Social and cultural perspectives explaining the lower availability of organs donors amongst BAME communites and measures to tackle this variation. 
References
Vathsala A. Improving cadaveric organ donation rates in kidney and liver transplantation in Asia. Transplant Proc. 2004 Sep 1;36(7):1873–5.
Aijing L, Wenzhao X, Wei W, Qiquan W, Xuantong D. Public Opinion on Organ Donation After Death and Its Influence on Attitudes Toward Organ Donation. Ann Transplant. 2016 Aug 18;21:516–24.
Balwani MR, Gumber MR, Shah PR, Kute VB, Patel HV, Engineer DP, et al. Attitude and awareness towards organ donation in western India. Ren Fail. 2015 May;37(4):582–8.
Delmonico FL. The development of the Declaration of Istanbul on Organ Trafficking and Transplant Tourism. Nephrol Dial Transplant. 2008 Nov 1;23(11):3381–2.
Rady MY, Verheijde JL. The moral code in Islam and organ donation in Western countries: reinterpreting religious scriptures to meet utilitarian medical objectives. Philos Ethics Humanit Med. 2014 Jun 2;9(1):11.
Bruzzone P. Religious aspects of organ transplantation. Transplant Proc. 2008 May;40(4):1064–7.
Wasser WG, Boner G, Koslowsky M, Lazar A. Emergence of an Israel faith-based community organization facilitating live donor kidney transplantation. BMC Nephrol. 2018 07;19(1):128.
Arbour R, AlGhamdi HMS, Peters L. Islam, brain death, and transplantation: culture, faith, and jurisprudence. AACN Adv Crit Care. 2012 Dec;23(4):381–94.
Mohamed E, Guella A. Public awareness survey about organ donation and transplantation. Transplant Proc. 2013;45(10):3469–71.
Sadler BL, Sadler AM. Organ Transplantation and the Uniform Anatomical Gift Act: A Fifty-Year Perspective. Hastings Cent Rep. 2018 Mar;48(2):14–8.
Iltis AS, Rie MA, Wall A. Organ donation, patients' rights, and medical responsibilities at the end of life. Crit Care Med. 2009 Jan;37(1):310–5.
Simillis C. Do we need to change the legislation to a system of presumed consent to address organ shortage? Med Sci Law. 2010 Apr;50(2):84–94.
Fabre J. Presumed consent for organ donation: a clinically unnecessary and corrupting influence in medicine and politics. Clin Med Lond Engl. 2014 Dec;14(6):567–71.
Heart transplant infrastructure in India very poor: Health experts [Internet]. The Indian Express. 2016 [cited 2020 Feb 24]. Available from:
https://indianexpress.com/article/india/india-news-india/heart-transplantinfrastructure-in-india-very-poor-health-experts-3056494/
Medical College, Kolkata [Internet]. [cited 2020 Feb 24]. Available from:
Doctors at Fortis Hospital successfully perform Kolkata's second heart transplant [Internet]. The Asian Age. 2018 [cited 2020 Feb 24]. Available from: https://www.asianage.com/life/health/250918/doctors-at-fortis-hospital-successfullyperform-kolkatas-second-heart-transplant.html
Israni AK, Zaun D, Bolch C, Rosendale JD, Snyder JJ, Kasiske BL. Deceased Organ Donation. Am J Transplant Off J Am Soc Transplant Am Soc Transpl Surg. 2016 Jan;16 Suppl 2:195–215.
Srivastava A, Mani A. Deceased organ donation and transplantation in India: Promises and challenges. Neurol India. 2018 Apr;66(2):316–22.
Matesanz R, Domínguez-Gil B, Coll E, Mahíllo B, Marazuela R. How Spain Reached 40 Deceased Organ Donors per Million Population. Am J Transplant Off J Am Soc Transplant Am Soc Transpl Surg. 2017 Jun;17(6):1447–54.
Rithalia A, McDaid C, Suekarran S, Norman G, Myers L, Sowden A. A systematic review of presumed consent systems for deceased organ donation. Health Technol Assess Winch Engl. 2009 May;13(26):iii, ix–xi, 1–95.