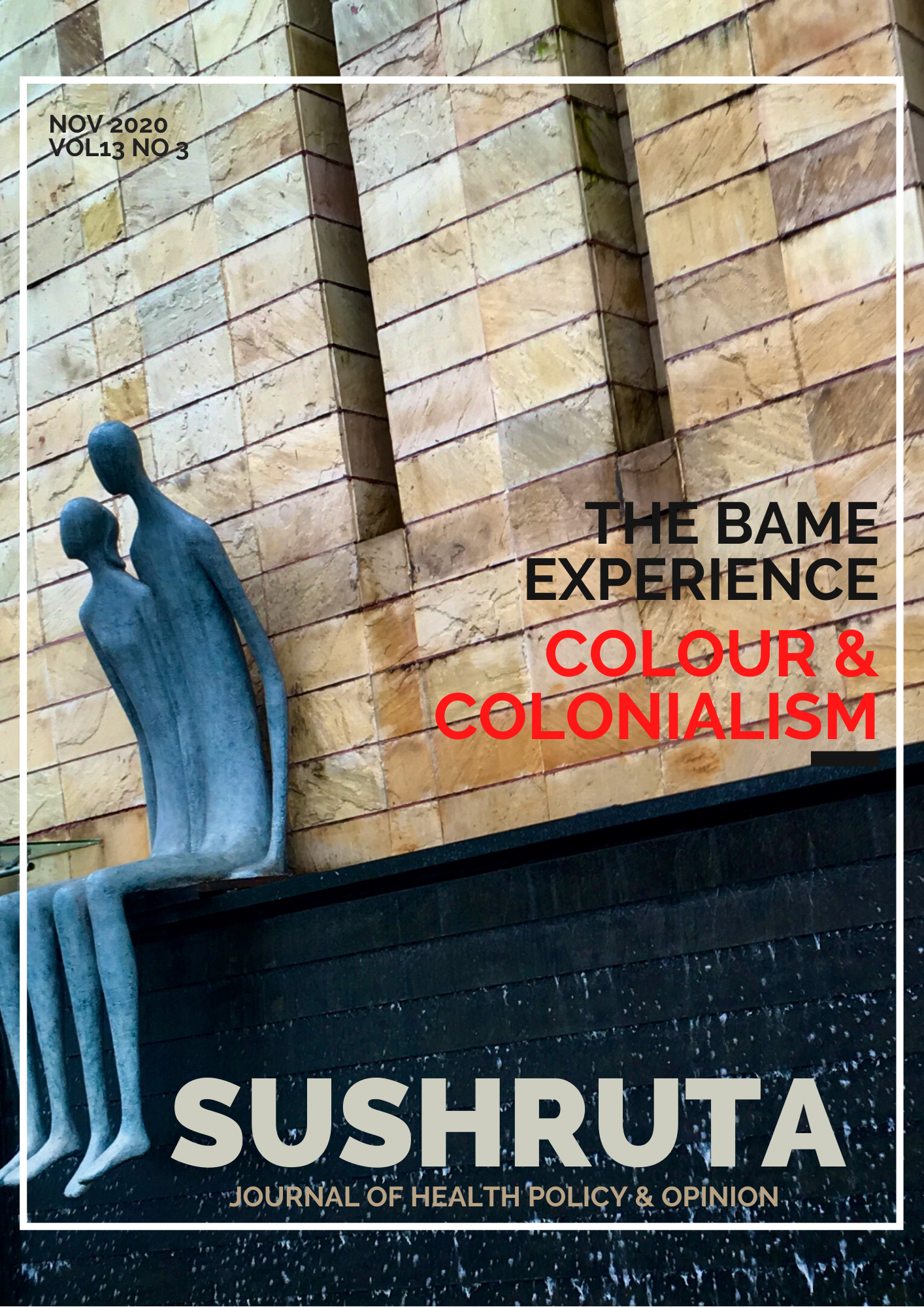 Published 2020-08-09
Keywords
differential attainment

,

postgraduate medical education

,

summative assessment
How to Cite
Dave, S., Chakravorty, I., Menon, G., Sidhu, K., Bamrah, J., & Mehta, R. (2020). Differential Attainment in Summative Assessments within Postgraduate Medical Education & Training: 2020 Thematic Series on Tackling Differential Attainment in Healthcare Professions. Sushruta Journal of Health Policy & Opinion, 13(3). https://doi.org/10.38192/13.3.15
Abstract
This discussion paper has been prepared for the expert roundtable exploring the 'Differential Attainment in PG Medical Education and Training' planned for 17 September 2020. This will be the first engagement exercise launching the 2020 Thematic series on Tackling differential attainment in Healthcare professions, bringing together an interdisciplinary Alliance on equality in healthcare professions. This paper presents a preliminary outline of the current evidence on differential attainment in high stakes postgraduate summative assessment, explores its impact, deliberates on known causes, and discusses a number of potential solutions. This paper is written with a view to present the case for tackling DA in PG summative assessments and will be accompanied by a prioritised selection of 'focused questions and solutions' to be discussed at the roundtable with subject experts. This paper and roundtable will form part of, and contribute to the thematic synthesis in the section on 'Assessment - formative and summative'. Therefore, as described in the 'protocol', will be followed by a focused systematic review, engagement with priority setting partnerships (via questionnaires, focus groups, and workshops) and culminate in an expert consensus. The final outcome will be presented as-synthesized recommendations, solutions, policy enablers, and areas for further research.
References
The state of medical education and practice in the UK. https://www.gmc-uk.org/about/what-we-do-and-why/data-and-research/the-state-of-medical-education-and-practice-in-the-uk.
Woolf, K. Fair Training Pathways for All: Understanding Experiences of Progression - Final Report. 69.
Woolf, K., Potts, H. W. W. & McManus, I. C. Ethnicity and academic performance in UK trained doctors and medical students: systematic review and meta-analysis. BMJ 342, d901 (2011).
MRCGP | Applied Knowledge Test (AKT). https://www.rcgp.org.uk/training-exams/mrcgp-exam-overview/mrcgp-applied-knowledge-test-akt.aspx.
MRCGP: Clinical Skills Assessment (CSA). https://www.rcgp.org.uk/training-exams/mrcgp-exam-overview/mrcgp-clinical-skills-assessment-csa.aspx.
MRCGP: Recorded Consultation Assessment (RCA). https://www.rcgp.org.uk/training-exams/mrcgp-exam-overview/mrcgp-recorded-consultation-assessment.aspx.
March 2016, 16. Former RCGP chair suggests CSA exam should be scrapped. Pulse Today http://www.pulsetoday.co.uk/news/gp-topics/education/former-rcgp-chair-suggests-csa-exam-should-be-scrapped/20031376.article.
Covid-19: changes to GP assessment should only be the beginning. The BMJ https://blogs.bmj.com/bmj/2020/06/05/covid-19-changes-to-gp-assessment-should-only-be-the-beginning/ (2020).
NHS Staff Surveys - NHS Staff Survey Results. https://www.nhsstaffsurveys.com/Page/1085/Latest-Results/NHS-Staff-Survey-Results/.
Woolf, K., Viney, R., Rich, A., Jayaweera, H. & Griffin, A. Organisational perspectives on addressing differential attainment in postgraduate medical education: a qualitative study in the UK. BMJ Open 8, (2018).
NHS workforce. https://www.ethnicity-facts-figures.service.gov.uk/workforce-and-business/workforce-diversity/nhs-workforce/latest#by-ethnicity-and-grade-medical-staff.
Valero-Sanchez, I., McKimm, J. & Green, R. A helping hand for international medical graduates. BMJ 359, (2017).
O'Dowd, A. More non-UK graduates than home grown clinicians joined medical register in past year. BMJ 367, (2019).
Rimmer, A. Locum pay since the cap. BMJ 357, (2017).
Background | Falling short: the NHS workforce challenge. Health Foundation https://reader.health.org.uk/falling-short/background.
Entry Through the Narrow Door.
Fielding, S. et al. Do changing medical admissions practices in the UK impact on who is admitted? An interrupted time series analysis. BMJ Open 8, (2018).
inclusion-report-aug-2017.pdf.
Archer, J. et al. The impact of large scale licensing examinations in highly developed countries: a systematic review. BMC Med. Educ. 16, 212 (2016).
Norcini, J. J. et al. Evaluating the quality of care provided by graduates of international medical schools. Health Aff. Proj. Hope 29, 1461–1468 (2010).
Hughes, N. S. et al. Exit examination: a survey of UK psychiatrists' views. BJPsych Bull. 39, 254–259 (2015).
Krishnan, A., Rabinowitz, M., Ziminsky, A., Scott, S. M. & Chretien, K. C. Addressing Race, Culture, and Structural Inequality in Medical Education: A Guide for Revising Teaching Cases. Acad. Med. J. Assoc. Am. Med. Coll. 94, 550–555 (2019).
Dyer, C. RCGP is cleared of ethnic discrimination in clinical skills assessment. BMJ 348, (2014).
Woolf, K., Rich, A., Viney, R., Needleman, S. & Griffin, A. Perceived causes of differential attainment in UK postgraduate medical training: a national qualitative study. BMJ Open 6, e013429 (2016).
Pattinson, J., Blow, C., Sinha, B. & Siriwardena, A. Exploring reasons for differences in performance between UK and international medical graduates in the Membership of the Royal College of General Practitioners Applied Knowledge Test: a cognitive interview study. BMJ Open 9, e030341 (2019).
Stone, J. & Moskowitz, G. B. Non-conscious bias in medical decision making: what can be done to reduce it? Med. Educ. 45, 768–776 (2011).
Epstein, R. M. Assessment in Medical Education. N. Engl. J. Med. 356, 387–396 (2007).
Academic performance of ethnic minority candidates and discrimination in the MRCGP examinations between 2010 and 2012: analysis of data | The BMJ. https://www.bmj.com/content/347/bmj.f5662.
Linton, S. Taking the difference out of attainment. BMJ 368, (2020).
Wakeford, R., Denney, M., Ludka-Stempien, K., Dacre, J. & McManus, I. C. Cross-comparison of MRCGP & MRCP(UK) in a database linkage study of 2,284 candidates taking both examinations: assessment of validity and differential performance by ethnicity. BMC Med. Educ. 15, (2015).
McManus, I. C. & Wakeford, R. PLAB and UK graduates' performance on MRCP(UK) and MRCGP examinations: data linkage study. BMJ 348, (2014).
McManus, I. C., Elder, A. T. & Dacre, J. Investigating possible ethnicity and sex bias in clinical examiners: an analysis of data from the MRCP(UK) PACES and nPACES examinations. BMC Med. Educ. 13, (2013).
Denney, M. & Wakeford, R. Do role-players affect the outcome of a high-stakes postgraduate OSCE, in terms of candidate sex or ethnicity? Results from an analysis of the 52,702 anonymised case scores from one year of the MRCGP clinical skills assessment. Educ. Prim. Care Off. Publ. Assoc. Course Organ. Natl. Assoc. GP Tutors World Organ. Fam. Dr. 27, 39–43 (2016).
Atewologun, D. & Tresh, F. Unconscious bias training : An assessment of the evidence for effectiveness. /paper/Unconscious-bias-training-%3A-An-assessment-of-the-Atewologun-Tresh/509a580783bb5df10f3af42e8df720d8ad57dbd0 (2018).
Colbert, C. Y., French, J. C., Herring, M. E. & Dannefer, E. F. Fairness: the hidden challenge for competency-based postgraduate medical education programs. Perspect. Med. Educ. 6, 347–355 (2017).
Gillett, G. Communication skills and the problem with fake patients. BMJ 357, (2017).
Schuwirth, L. W. T. & van der Vleuten, C. P. M. How 'Testing' Has Become 'Programmatic Assessment for Learning'. Health Prof. Educ. 5, 177–184 (2019).
Vleuten, C. P. M. van der & Swanson, D. B. Assessment of clinical skills with standardized patients: State of the art. Teach. Learn. Med. 2, 58–76 (1990).
Denney, M. L., Freeman, A. & Wakeford, R. MRCGP CSA: are the examiners biased, favouring their own by sex, ethnicity, and degree source? Br. J. Gen. Pract. 63, e718–e725 (2013).
de Leng, W. E., Stegers‐Jager, K. M., Born, M. P. & Themmen, A. P. N. Integrity situational judgement test for medical school selection: judging 'what to do' versus 'what not to do'. Med. Educ. 52, 427–437 (2018).
Generic professional capabilities framework. https://www.gmc-uk.org/education/standards-guidance-and-curricula/standards-and-outcomes/generic-professional-capabilities-framework.