Conference
Charter for Locally Employed Doctors in the UK Health Service: Presented at National LED Conference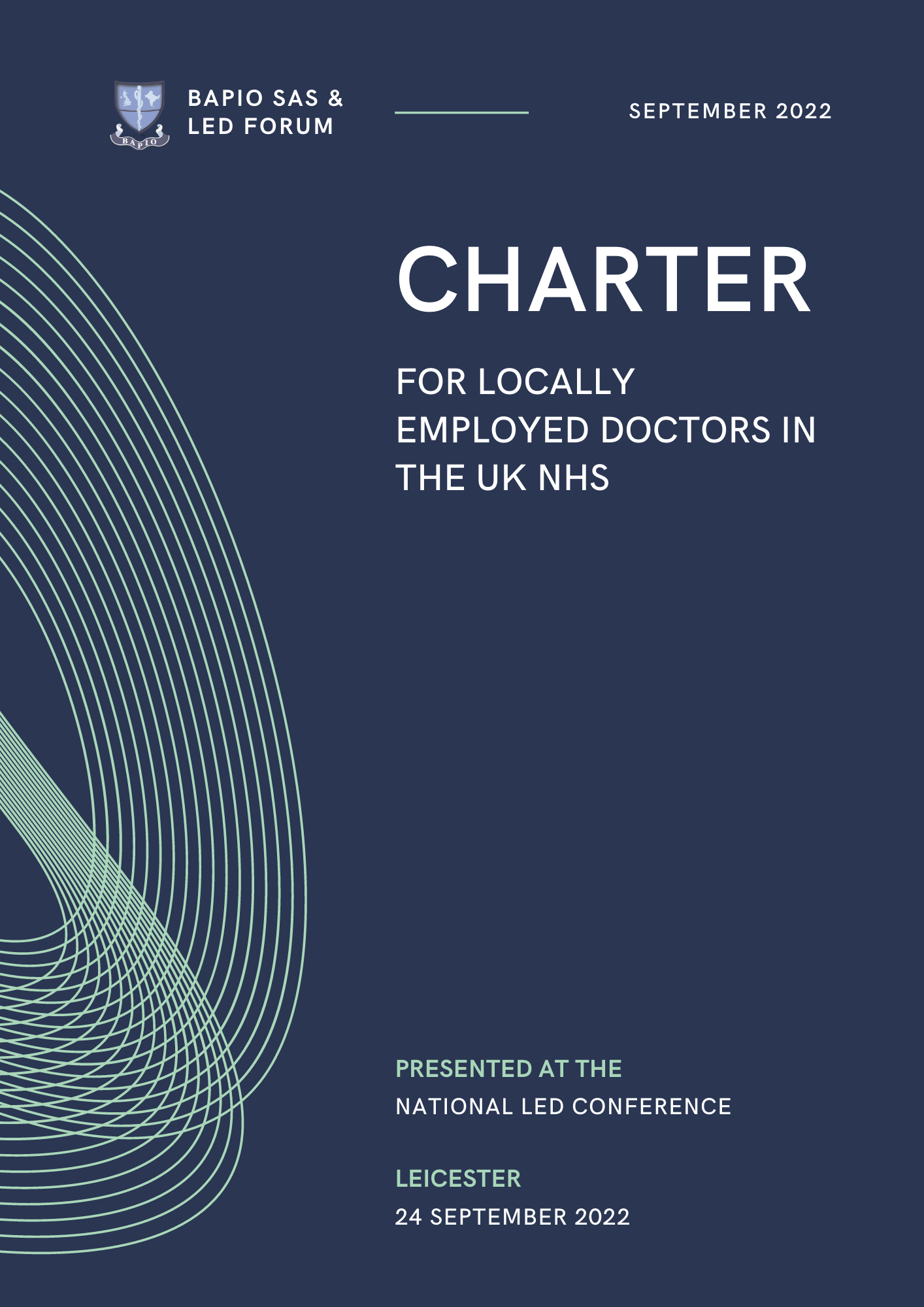 Published 2022-09-23
Keywords
Locally employed doctors

,

charter

,

Bill of rights

,

NHS

,

UK
How to Cite
Chakravorty, I. (2022). Charter for Locally Employed Doctors in the UK Health Service: Presented at National LED Conference. Sushruta Journal of Health Policy & Opinion, 1–28. https://doi.org/10.38192/led.charter.22.1
Abstract
Locally employed doctors have been described along with their compatriots as 'the lost tribe' compared to their peers who are either in formal training, consultant, or general practitioner posts. Over the last
decade, considerable progress has been made in improving the recognition, value, and respect given to doctors in Specialty, Staff Grade or Associate Specialist (SAS) roles with harmonised contracts, working conditions and support available. The vast majority of the cohort of over 127,000 doctors in the SAS-LED category as per the UK medical register (GMC 2022 dataset) continue to be lumped with their SAS historical
counterparts yet have a very different experience. These LEDs are unsung and unheard and remain voiceless in the UK NHS medical staff, yet continue to provide service in delivering high-quality healthcare
to the nation.
This Charter is ambitious in its aspiration and aims to deliver the 'Gold Standard' for all LEDs. It was developed following a prolonged exercise of listening to the experiences of many LEDs within the
membership of BAPIO across its affiliated organisations and social networks. It is unique in being developed and written by LEDs and IMGs early in their careers or by those transitioning to more established
senior and autonomous roles. So it is grounded in the reality of lived experiences and ambitious in setting the bar at an equal level with other doctors in the UK NHS.

The LED Charter offers ten practical recommendations for implementation by all NHS employing organisations. Most of the principles of equality and inclusion described in this Charter should be embraced by the medical royal colleges, education and training agencies (i.e. Health Education England) in their committees and processes to provide a voice to this 'lost tribe'.
References
Jalal M, Bardhan KD, Sanders D, et al. INTERNATIONAL: Overseas doctors of the NHS: migration, transition, challenges and towards resolution. Future Healthc J 2019;6:76–81. doi:10.7861/futurehosp.6-1-76
Group BMJP. Report of G.M.C. inquiry. Br Med J 1975;2:183–8. doi:10.1136/bmj.2.5964.183
Group BMJP. Editorial: Tests on overseas doctors. Br Med J 1975;4:542–3. doi:10.1136/bmj.4.5996.542
Rich A, Viney R, Needleman S, et al. 'You can't be a person and a doctor': the work–life balance of doctors in training—a qualitative study. BMJ Open 2016;6. doi:10.1136/bmjopen-2016-013897
Esmail A, Everington S. Racial discrimination against doctors from ethnic minorities. BMJ 1993;306:691–2. doi:10.1136/bmj.306.6879.691
Simpson JM, Esmail A. The UK's dysfunctional relationship with medical migrants: the Daniel Ubani case and reform of out-of-hours services. Br J Gen Pract 2011;61:208–11. doi:10.3399/bjgp11X561230
Esmail A, Simpson J. International medical graduates and quality of care. BMJ 2017;356:j574. doi:10.1136/bmj.j574
sas-and-led.pdf. https://www.ouh.nhs.uk/education-centres/training/documents/sas-and-led.pdf (accessed 20 Mar 2021).
Noaman I, Dhahri AA, Mohammed E. Another lost tribe: Quantifying the experience of international medical graduates applying for a national training number (NTN) in the United Kingdom with a cross-sectional study. Annals of Medicine and Surgery 2021;69:102665. doi:10.1016/j.amsu.2021.102665
Bourne T, Wynants L, Peters M, et al. The impact of complaints procedures on the welfare, health and clinical practise of 7926 doctors in the UK: a cross-sectional survey. BMJ Open 2015;5:e006687. doi:10.1136/bmjopen-2014-006687
Bourne T, Vanderhaegen J, Vranken R, et al. Doctors' experiences and their perception of the most stressful aspects of complaints processes in the UK: an analysis of qualitative survey data. BMJ Open 2016;6:e011711. doi:10.1136/bmjopen-2016-011711
Horsfall S. Doctors who commit suicide while under GMC fitness to practise investigation. ;:83.
Ortashi O, Virdee J, Hassan R, et al. The practice of defensive medicine among hospital doctors in the United Kingdom. BMC Medical Ethics 2013;14:42. doi:10.1186/1472-6939-14-42
NHS England » We are the NHS: People Plan for 2020/2021 – action for us all. https://www.england.nhs.uk/ournhspeople/ (accessed 28 Sep 2020).
Issar P. The future of NHS human resources and organisational development. ;:44.
Welcoming-and-Valuing-International-Medical-Graduates-A-guide-to-induction-for-IMGs-WEB.pdf. https://www.e-lfh.org.uk/wp-content/uploads/2022/06/Welcoming-and-Valuing-International-Medical-Graduates-A-guide-to-induction-for-IMGs-WEB.pdf (accessed 12 Sep 2022).
Solet DJ, Norvell JM, Rutan GH, et al. Lost in Translation: Challenges and Opportunities in Physician-to-Physician Communication During Patient Handoffs. Academic Medicine 2005;80:1094–9.https://journals.lww.com/academicmedicine/Fulltext/2005/12000/Lost_in_Translation__Challenges_and_Opportunities.5.aspx (accessed 13 Sep 2022).
Gasiorek J, van de Poel K. Divergent Perspectives on Language-Discordant Mobile Medical Professionals' Communication with Colleagues: An Exploratory Study. Journal of Applied Communication Research 2012;40:368–83. doi:10.1080/00909882.2012.712708
Clay-Williams R, Ludlow K, Testa L, et al. Medical leadership, a systematic narrative review: do hospitals and healthcare organisations perform better when led by doctors? BMJ Open 2017;7:e014474. doi:10.1136/bmjopen-2016-014474
Cordoba EL, Shale S, Evans RC, et al. Time to get serious about distributed leadership: lessons to learn for promoting leadership development for non-consultant career grade doctors in the UK. BMJ Leader 2022;6. doi:10.1136/leader-2020-00039